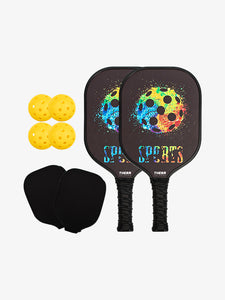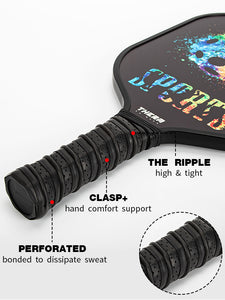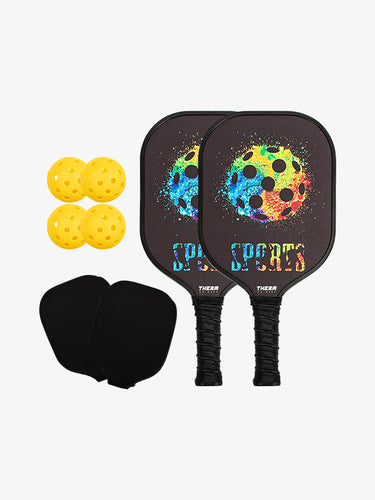 Pickle Ball - Paddle Set
Tax included.
Shipping
calculated at checkout.
New Year Sale: Use code 15OFF for 15% discount
Free shipping: Free shipping for UK orders.
Support: Please call +44 (0) 2070524 220 or email to sales@thermlamode.com
Returns&Warrenty: 14 days free return, one year warrenty.
The Therm La Mode pickleball Paddle is made for high quality material . support any official competition, tournament pickleball play or practice game.
Graphite pickleball paddle was designed to be awesome pickleball paddle for both beginners and players ready to take their game to the next level.
High quality pickleball Paddle
This pickleball paddle is excellent for beginners to intermediate players. The pickleball paddles offer the perfect balance in great gameplay, control, power. The graphite pickleball paddle is suitable for everyone regardless of gender, age or skill level.
Reason to own it
Graphite carton fiber face

Favorable package

High quality stretchy

Better Balance

Perfectly soft curved

Comfortable Cushion Grip

Polymer honeycomb core
You always own it one day.
Comfortable cushion grip

With 4.25 inches (circumference) perforated and sweat absorbent cushioned grip, the comfort of handle of the pickleball racquet is strongly improved. You can do the wrist actions or change the hand flexibility.

IMPROVED STRENGTH BY THE HONEYCOMB CORE

pickleball set is constructed by polymer honeycomb and sandwiched between two sheets of durable fiberglass

The graphite pickleball paddle is made of exceptionally durable material that allows it to withstand a strike from balls

For everybody

No matter the old man or young man, please enjoy the pickleball game with Therm la mode Pickleball. Not only the game but also the communication between friends or families by sport
It is widely believed that the Pritchard family had a pet dog named pickles. Family members in the pickles ball game, the ball often rolled into the nearby grass, people shouted pet dog pickles mouth to catch the ball, over time, every time to pick up the ball to call "pickle, the ball!" Together they form a picklesball.
Pickleball game is wildly popular in many family.
Therm la mode thinks about the pleasure of the family, take the advance technology ,produce a high quality pickleball paddle for every single family