Pickle Ball Set - Outdoor 3 Pcs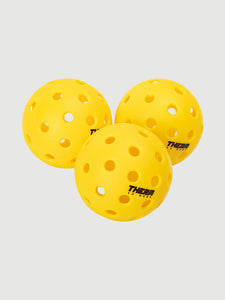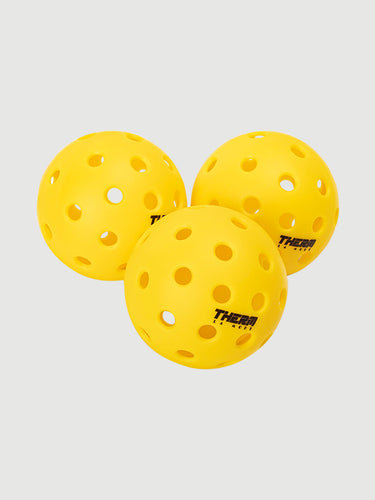 Pickle Ball Set - Outdoor 3 Pcs
Tax included.
Shipping
calculated at checkout.
New Year Sale: Use code 15OFF for 15% discount
Free shipping: Free shipping for UK orders.
Support: Please call +44 (0) 2070524 220 or email to sales@thermlamode.com
Returns&Warrenty: 14 days free return, one year warrenty.
The Therm La Mode pickleball is made for high quality material . Standard weight 0.88 Oz, 74mm diameter which support any official competition, tournament pickleball play or practice game.
The ball is made by injecting hot liquid plastic into a mold. The mold is closed and rotated multi-directionally to spread the plastic evenly around the walls of the mold creating a strong one piece ball. When the mold has stopped spinning it is opened and the new ball is removed from the mold. Sometimes there is a minor parting line from the seam of the mold, this is not a true seam and does not affect the play or durability of the ball.
High quality pickleball
Therm la mode Pickle Ball is specifically designed and optimized for pickleball, providing the truest flight and most authentic bounce available. Featuring smaller holes and precise weighting, delivers optimal rebound on outdoor courts and resists wind interference
Reason to own it
True Flight Technology

Authentic Bounce Technology

Exceptional Durability

Better Balance

Perfectly round holes

precision drilled for optimal balance

smooth and durable seam
It is widely believed that the Pritchard family had a pet dog named pickles. Family members in the pickles ball game, the ball often rolled into the nearby grass, people shouted pet dog pickles mouth to catch the ball, over time, every time to pick up the ball to call "pickle, the ball!" Together they form a picklesball.
Pickleball game is wildly popular in many family.
Therm la mode thinks about the pleasure of the family, take the advance technology ,produce a high quality pickleball for every single family
You always own it one day.
Better Balance

weighted heavier to fly straighter in extreme outdoor conditions and deliver outstanding playability, ultimate precision, and consistent flight. Perfectly round holes are strategically aligned and precision drilled for optimal balance

Exceptional Durability

The seams of the ball are fused by heating thethicker material and then immediately joining the halves together for a bond that can withstand the most aggressive play.

For everybody

No matter the old man or young man, please enjoy the pickleball game with Therm la mode Pickleball. Not only the game but also the communication between friends or families by sport