Carefor CF-9A Portable Air Quality Monitor For AQI, PM2.5, PM10, CO2, Temp and Humidity,With Buzzer Alarm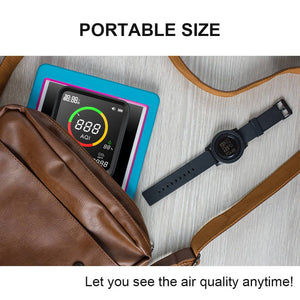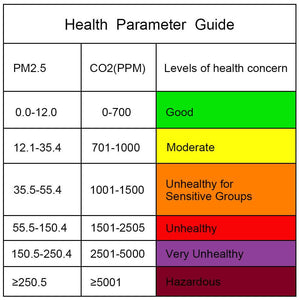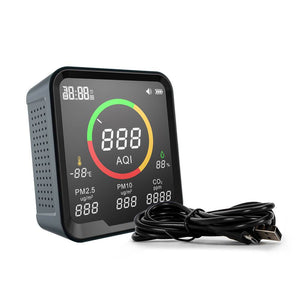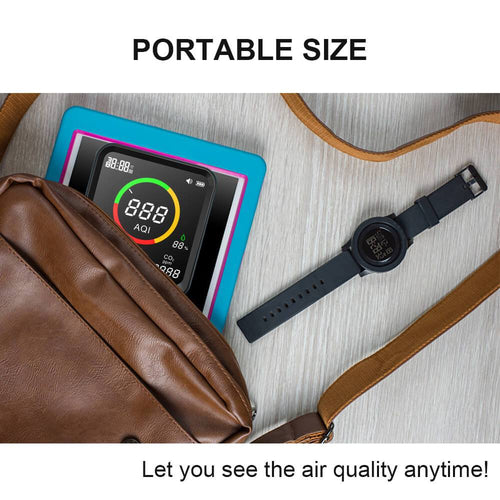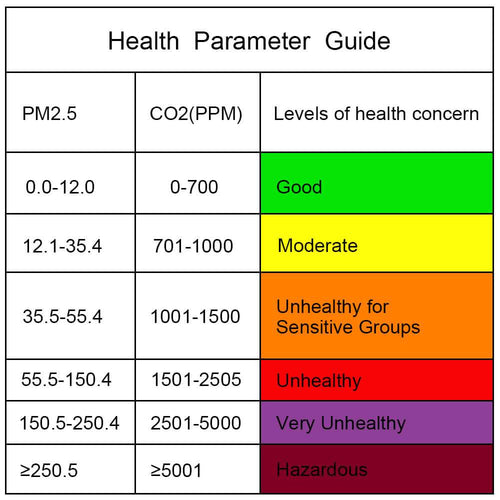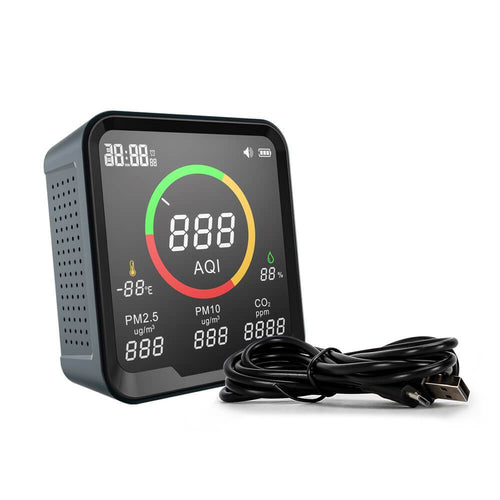 Carefor CF-9A Portable Air Quality Monitor For AQI, PM2.5, PM10, CO2, Temp and Humidity,With Buzzer Alarm
Tax included.
Shipping
calculated at checkout.
New Year Sale: Use code 15OFF for 15% discount
Free shipping: Free shipping for UK orders.
Support: Please call +44 (0) 2070524 220 or email to sales@thermlamode.com
Returns&Warrenty: 14 days free return, one year warrenty.
Product Description
Carefor CF-9A Portable Air Quality Monitor is a powerful functional monitor which can monitor the Air Quality Index(AQI) for you, including PM2.5, PM10, CO2, Temperature and Humidity. It's equipped with a dedicated sensor for CO2, PM,2.5 and PM10, enabling accurate measurement of AQI in real time. You can hang AQI sensor on the wall, put it on the table or take it anywhere with you so that you are able to monitor the air condition all the time. The indoor monitor will tell you when should let the fresh air in and when should keep the windows close. For example, it's time for you to ventilate when CO2 levels go up, but keep the windows closed when PM2.5/PM10 is high outside.
Portable Air Quality Monitor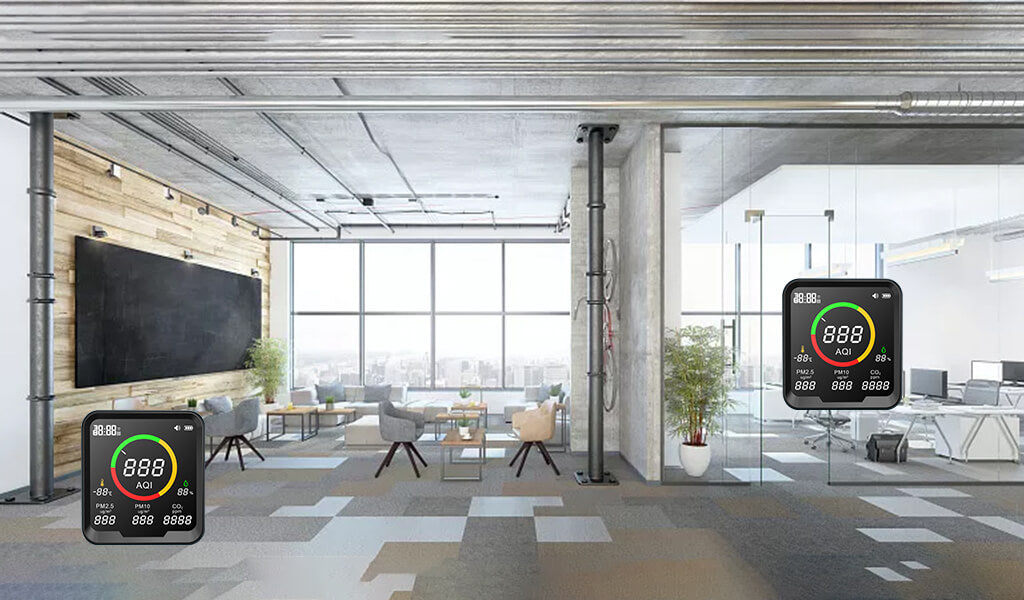 Key Features:
Multiple functional:show AQI of the environment in real time, including PM2.5, PM10, CO2, Temperature and Humidity.
Advanced Sensor: Carefor CF-9A AQImeter is equipped with an infrared sensor which is the most advanced and accurate sensor on the market, which enable fast responsive to the environmental condition.
Wide measuring range: Temp range:-10℃-40℃:14°F-104°F, humidity range: 20-80%, Carbon Dioxide: 0-5000ppm(±6%), pm2.5: 0-1000μg/m³ and PM10: 0-1000μg/m³.
Displays user-friendly "AQI" mode.
Long battery life: equipped with 2400mAh rechargeable battery, power supply by USB Charging.
Portable size: Size of the indoor air quality detector is 98mm*90mm*40mm, which is easy to take it with you anywhere.
Since most people spend a lot of time indoors, especially when many people stay indoors together at the same time such as in offices, gyms, hospitals, libraries and so on, it is absolutely necessary to manage CO2 and /PM2.5/PM10, which are important elements for indoor air quality management.
In particular, CO2 is related to learning ability.
A Danish study lowered the maximum concentration of CO2 from 1700ppm to 1100ppm and found that learning ability increased by 10%.
Lower CO2 concentration to increase work ability and concentration as well as learning ability In most cases, ventilation is the only way to reduce CO2 concentration. And an Carbon Dioxide sensor can show you the ventilation condition.
Conversely, When carbon dioxide levels exceed 2000 PPM, most people experience a sense of discomfort.Carbon dioxide levels between 2000 ppm and 2500ppm are considered air pollution, while those above 2500ppm are considered serious pollution.
When people breathe in a high concentration of carbon dioxide for a long time, it will cause disruption of the body clock. High concentrations of carbon dioxide will inhibit the respiratory center, and especially high concentrations will have a paralyzing effect on the respiratory center.
In the long run, people will have symptoms such as low blood fat, and the brain is particularly easy to fatigue, seriously affecting life and work, such as office workers will feel tired, students can not concentrate on learning.
When carbon dioxide levels are between 3,000 and 4,000 parts per million, they can cause people to experience shortness of breath, headaches, ringing in their ears, and increased blood pressure.It will even cause death at levels above 8,000 parts per million.
That's why Carbon dioxide concentration is also one of the important standards to measure whether indoor air is clean So it's significant to have a Portable Air Quality Monitor to make a healthier environment for you and your family.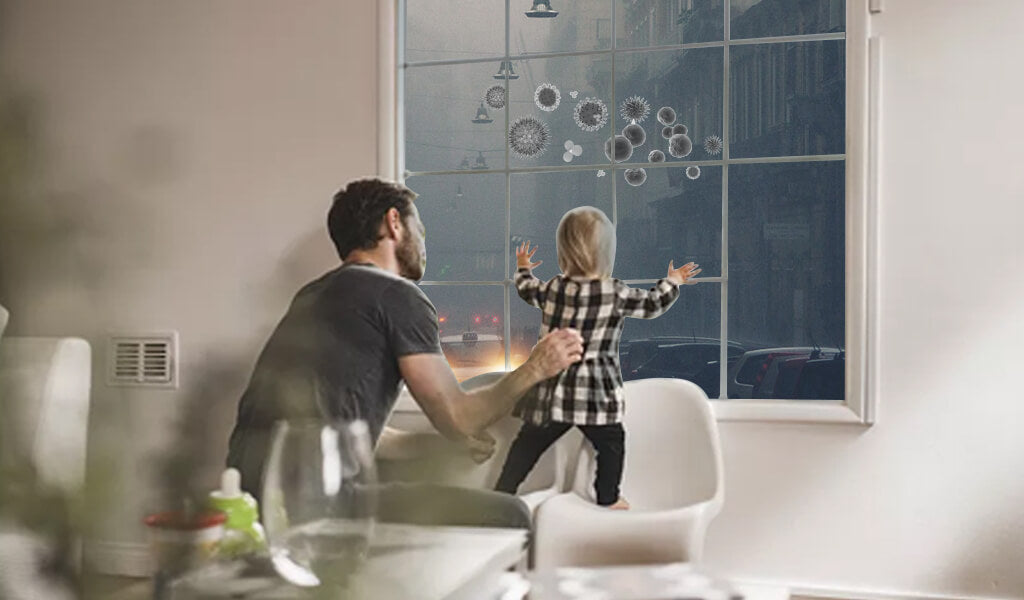 What is the health effect of haze?
Haze particles can give rise to acute symptoms such as cough, wheezing, shortness of breath and a feeling of tiredness and weakness. The effect of haze is aggravated in people with pre-existing heart or lung disorders. However, the harmful health effects of a few minutes of haze exposure are temporary and usually do not lead to long-term health issues.
The biggest hazard of the haze is the fine particulate matter (PM) suspended in the air. Particulate matter, especially those of PM2.5 can easily be inhaled into our lungs. This refers to particles that are smaller than 2.5 microns in diameter.
Long-term exposure to the haze and particulate matter can lead to the development of medical conditions such as bronchitis and a higher incidence of lung cancer. Thus it is best to have a PM2.5 monitor to indicate when to stay indoors during hazy situations. If you have to go outdoors for long periods, an N95 mask can help reduce your inhalation of particulate matter.
Those at highest risk of being affected by the haze should remain indoors. These are people with pre-existing heart or lung disorders as exposure to air pollution is known to worsen these conditions. Likewise, children and the elderly who have smaller lung reserves should avoid prolonged exposure to the haze.
What symptoms can the haze cause?
Exposure to the haze can lead to symptoms of bronchitis. These symptoms can be just like symptoms of asthma – wheezing, cough, chest discomfort and shortness of breath. If the symptoms are severe, you should consult a doctor immediately. If symptoms are mild, they may abate or resolve with rest (indoors) and avoidance of the haze.
Fine particles are matter foreign to the body (they are like microscopic soot particles). Inhaling the haze is like inhaling smoke – irritation of the sensitive lining within the nose and throat occurs. Symptoms tend to get more serious when the irritation occurs deeper than the nose and throat, especially when the lower air passages (trachea and bronchi) are affected.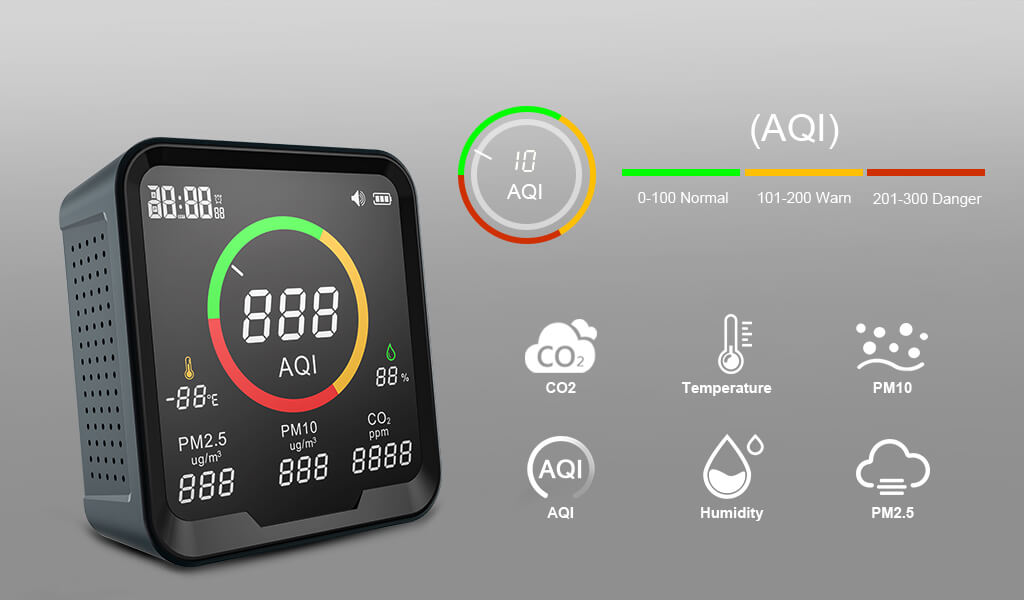 Specifications
| | |
| --- | --- |
| Temperature Measurement Range | Internal sensor: -10°C ~+40°C (±1℃) |
| Humidity Range | 20-80%(±5% RH) |
| Carbon Dioxide Value | 0-5000ppm(±6%) |
| PM2.5 Range | 0-1000μg/m³(±15μg/m³) |
| PM10 Range | 0-1000μg/m³(±15%) |
| Power Supply | 18650 lithium battery/Li-2400 mAH |
| Alarm | Buzzer Alarm |
| Communication Interface | USB |
| Shelf Life | 1 Year |
| Size | 98mm*90mm*40mm |